CHEENGZ Disc Sports – Just Disc It!
The New CHEENGZ I-ONE Mid Range Accuracy Disc
The Race for Aces is Live. Are you in?
The CHEENGZ Ace Challenge is a free virtual tournament for our customers. Bounty winner Tyler Hutchinson ordered 3 discs on 2-18-21. Tyler, Yooper Dan Flemming, and Kendall Hermes spent a month learning to throw the disc. March 20, 2021 Tyler and Yooper Dan hit their First Ace Ever with the I-One. Kendall stuck his incredible anhyzer Ace March 22nd, 2021. This is what it is all about.
CHEENGZ I-ONE!
Reviews on the new CHEENGZ I-One by Hyperflite…
"It Flies Straight & Holds a Line"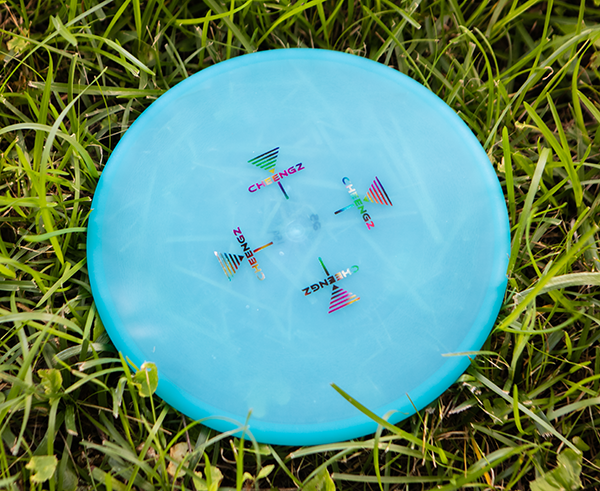 A mid-range golf disc is your main accuracy disc next to your putter. Peter Bloeme, 1976 Men's World Frisbee Accuracy Champion, PDGA# 123, has been building accuracy and stability into every competition disc sold by Hyperflite since 2003. The CHEENGZ I-One is Hyperflite's first golf disc PDGA Approved 12-30-2020 and is legal up to 183g

The sport of disc golf has so many disc options, few ever take the time to learn to throw one disc exceptionally well. We believe you should focus on developing muscle memory with one mold of putter and one mold of mid-range.
Training is the repetition of perfection through practice. Throwing one disc in a field to a friend until you both can consistently hit each other's root beer bellies from 200′ or more is the best way to master any disc.

The method is simple. If you practice throwing aces with one disc you will begin to hit aces with that disc.

Discs for Kidz
CHEENGZ has a complete line of discs for kids of all ages. The KidZee is a safe disc for kids 5 and under just learning to throw. The I-One 100 Class disc will throw similar to the KidZee, weighs 100g and will give them long straight flights with lots of glide. Once they can Hyzerflip the 100 Class over 150′ they are ready to move to the 150 Class and beyond.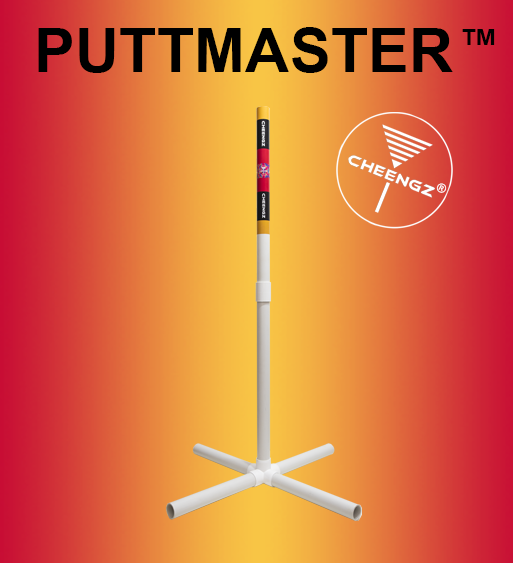 Portable Puttmaster
The Puttmaster was created for our Parent Child Doubles Disc Golf Tournaments to teach accuracy as a first skill in disc sports. The game consists of a 1 1/12″ PVC Pole with a scoring label that is reminiscent of the Dart Game Cricket.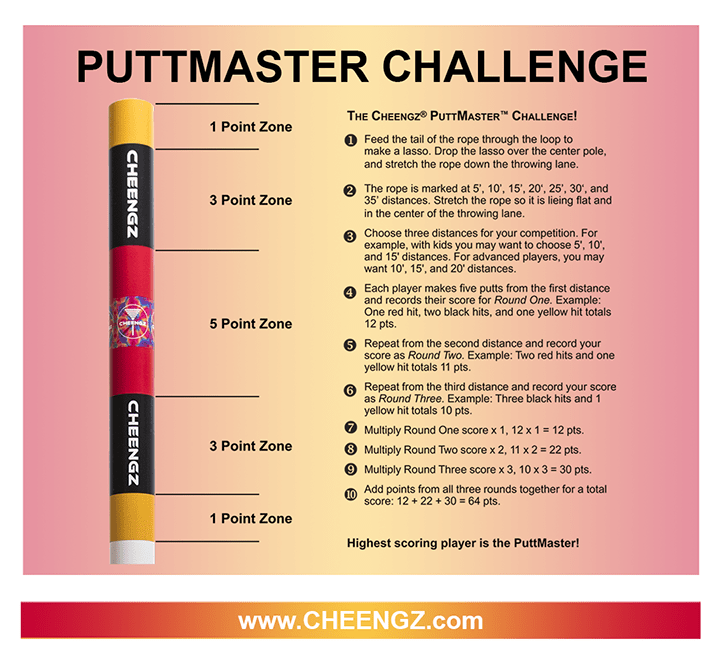 The Puttmaster Challenge
Each player gets 5 throws from 3 distances to score as many points as possible. For kids we recommend 5′, 10′, and 15′. The yellow bands = 1 pt, black bands = 3 pts, and the red band = 5 points. The score for the first distance is x1, the score for the second distance is x2, and the score for the third distance is x3. The highest score is The Puttmaster.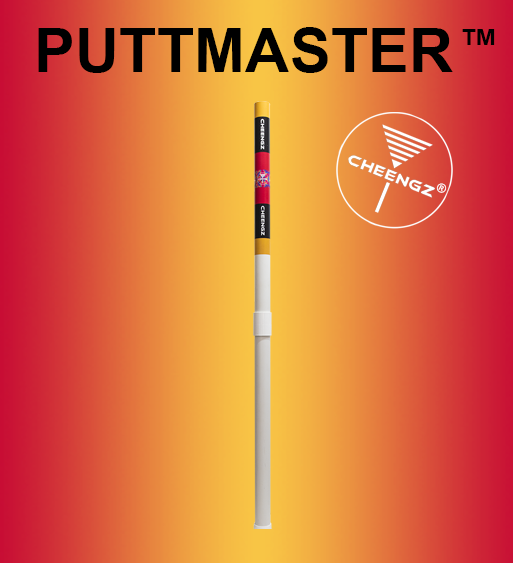 The In-Ground Puttmaster
The In-Ground version is a permanent practice target that will improve your accuracy and confidence when it matters most. Anyone who accurately putts on a Puttmaster finds the chains of the basket like sails reaching out to catch their disc. Nothing will improve your game like a Puttmaster.
The In-Ground Puttmaster is also a great way to seed new courses. Nine In-Ground Puttmasters cost less than a single basket and can help get play started in a new community. Set the course up similar to a par two course with all holes under 225′. Hit the pole anywhere off the drive and its an Ace. Hit the label to putt out. Play the way the sport started with a Puttmaster!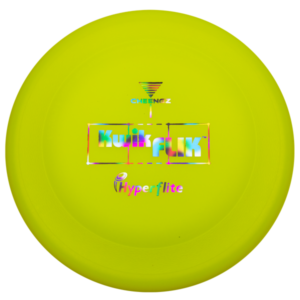 A new cooperative challenge created for the CHEENGZ Flying Disc Festival and Physical Education Programs to inspire FREESTYLE play that only requires 1 disc and a 75'x25′ court to play.

The KwikFlik court is designed off the common width of a neighborhood street, 25′ wide. Measure 0′, 25′, 50′, and 75′ on a straight section of a side street and you have a court. When a car comes, stop play immediately and yell "CAR!" as loudly as possible and get out of the way! It's hours of screen free fun in the summer sun!

Sale!

GA

Cheat Scheetz™ Purple and Green Decks